Commercial lawn owners can mow their yards with riding mowers but what if they don't have that much money to buy ride-on mowers, that's when commercial walk behind mowers come in to play.
What is Walk Behind Lawn Mower?
Lawns deserve to be taken care of and that's exactly what lawn mowers do. Walk behind lawn mowers, as the name suggests, are the mowers that need to be controlled by the driver from behind not like the riding lawn mowers.
Walk behind lawn mower is one of the most traditional modes of grass cutting and in fact, was a revolution in the field of lawn care. Before them, people had to cut grass with cutters, shears, and trimmers.
The invention of walk behind lawn mowers made the mowing job a lot easier and people started making larger lawns.
This article narrates the best commercial walk behind lawn mowers with a complete overview of their advantages and demerits. It also contains affiliate links, we may earn a commission if you buy through a link on this page.
Before the discussion of the best lawn mower models, we will be telling you about the walk behind mowers in detail, so you can scroll down to the list of the lawn mowers if you don't want to read this information.
Top Commercial Walk Behind Mowers Brands
Number of brands are manufacturing walk behind mowers, and among these very few are making commercial models. We have enlisted the names of credible companies that are producing products flawlessly.
Toro
Cub Cadet
Beast
Snapper
Honda
Troy-Bilt
Greenworks
Swisher
**Disclosure: As an Amazon Associate I earn from qualifying purchases.
Top Commercial Walk Behind Lawn Mowers
Best Commercial Walk Behind Lawn Mowers Reviews
1. Toro 30″ TimeMaster 21199 – Best Rated Commercial Walk Behind Mower for Larger Lawns
Toro is a big name in the field of lawn mowers and this model is no different. With a 233cc Briggs & Stratton OHV Engine and a 30-inch wide cutting deck, it can handle large lawns till 2 acres quite effectively.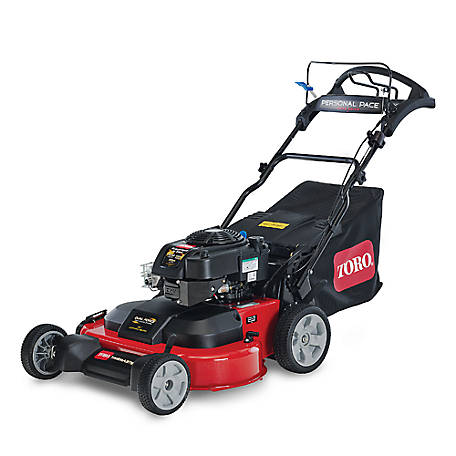 Toro 30 in. 223cc TimeMaster Self-Propel Lawn Mower, 21199
as of December 1, 2023 8:17 am
This stylish mower supports the Self-Propel and Traction-assist handling feature which works in cognition to give full control of the ride to the user. The handle, when pushed all the way down can take the mower to a speed of 4.5 MPH while the handle can access tight corners with ease; it's a complete package.
It allows a total of 7 height adjustments through which the user can cut grass from 1.25-4.25 inches along with the provision of all three side discharge, mulching, and bagging facility. Twin-blade cutting deck delivers a very fine grass cut and gets the job done 40% faster.
We would especially mention the Blade Stop System here. It allows the blade to stop functioning while keeping the motor running so that you don't have to restart the mower every time you walk away from it; a real time-saver. It also has a washout port whereby you can easily clean the deck with a water hose and comes with a 3-year Full warranty alongside a 3-year Tru-start warranty.
There is not a single lever to control the deck height, rather there are levers on the tires, and you have to set each one which is the only disadvantage we see here.
Pros
233cc Engine
Self-propel and Traction assist handle feature
Forward speed of 4.5 MPH
Self-propelled
Rear-wheel drive
40% faster operation
7 height adjustments
Blade Stop system so you don't have to restart the mower each time you step away from it.
Cons
No single lever deck lift system
A bit expensive (running a 233cc engine is not cheap)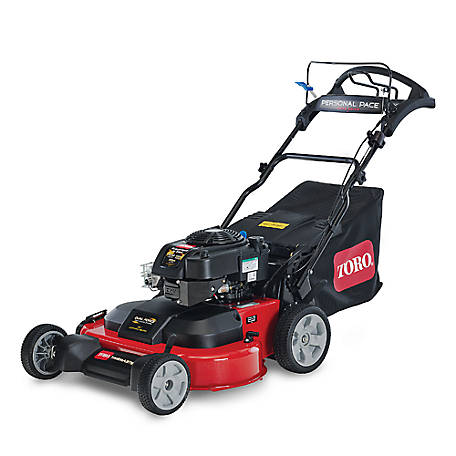 2. Cub Cadet 33″ CC800 – Best Self-propelled Commerical Lawn Mower
And how can we forget the yellow & black combo of the Cub Cadet lawn mower models in this list?
Powered by a 382cc Engine and 33-inch wide cutting deck, you will be surprised at how quickly it mows the grass of your lawn.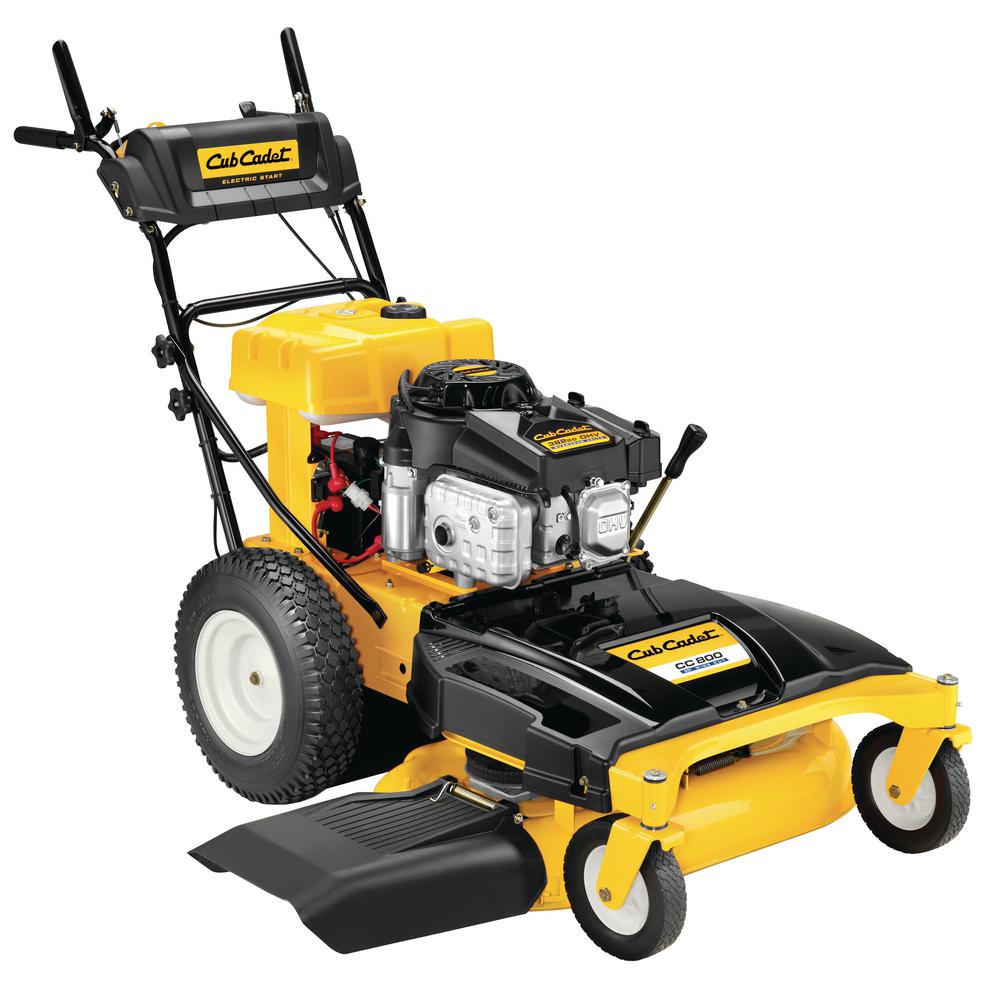 Cub Cadet 33 in. 382 cc
$1,399.00


$

1,259.10
out of stock
as of December 5, 2023 11:57 am
Cub Cadet claims this walk behind mower to be equipped with zero turn capability, thanks to the caster wheels which can be unlocked to steer the mower on its axis, and we can't affirm it much; it really does that. The rear wheels are 16 inches wide which keeps the mower in stable position even when the grass is wet.
If we talk about the deck, it is 33 inches wide and fabricated with 13-gauge steel. There is a 6-point height adjustment system whereby the user can cut grass from 1.25-3.75 inches. There are 2 blades that cut the grass very cleanly. Through the SmartJet high-pressure washing system, you can get rid of the grass clippings easily. Also, it supports all 3 grass cutting methods and comes with a 4-speed variable control that allows 4 forward speeds and 1 reverse speed.
The drive is rear-wheel which makes it effective even on slopes and to couple it up, it is a self-propelled walk behind mower because you can't possibly push such a heavy machine upslope through manual power alone. There is a 3-year warranty attached to it which, in our view, is quite good. All in all, it's an excellent option for your big lawns if you are willing to pay for it.
Pros
382cc OHV Engie
33-inch wide cutting deck
3-year warranty
4-speed variable speed control
SmartJet deck washing system
zero-turn steering ability
6-point height adjustment system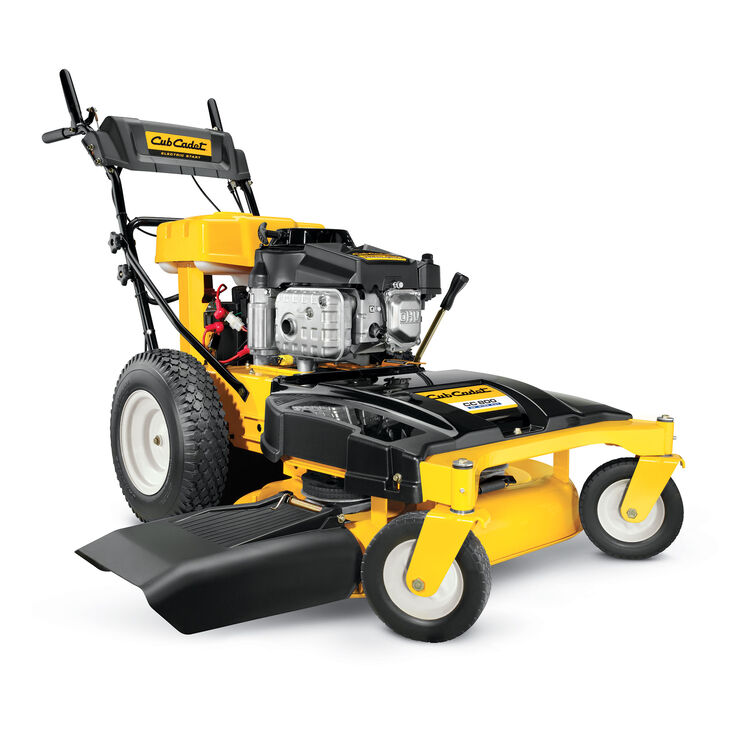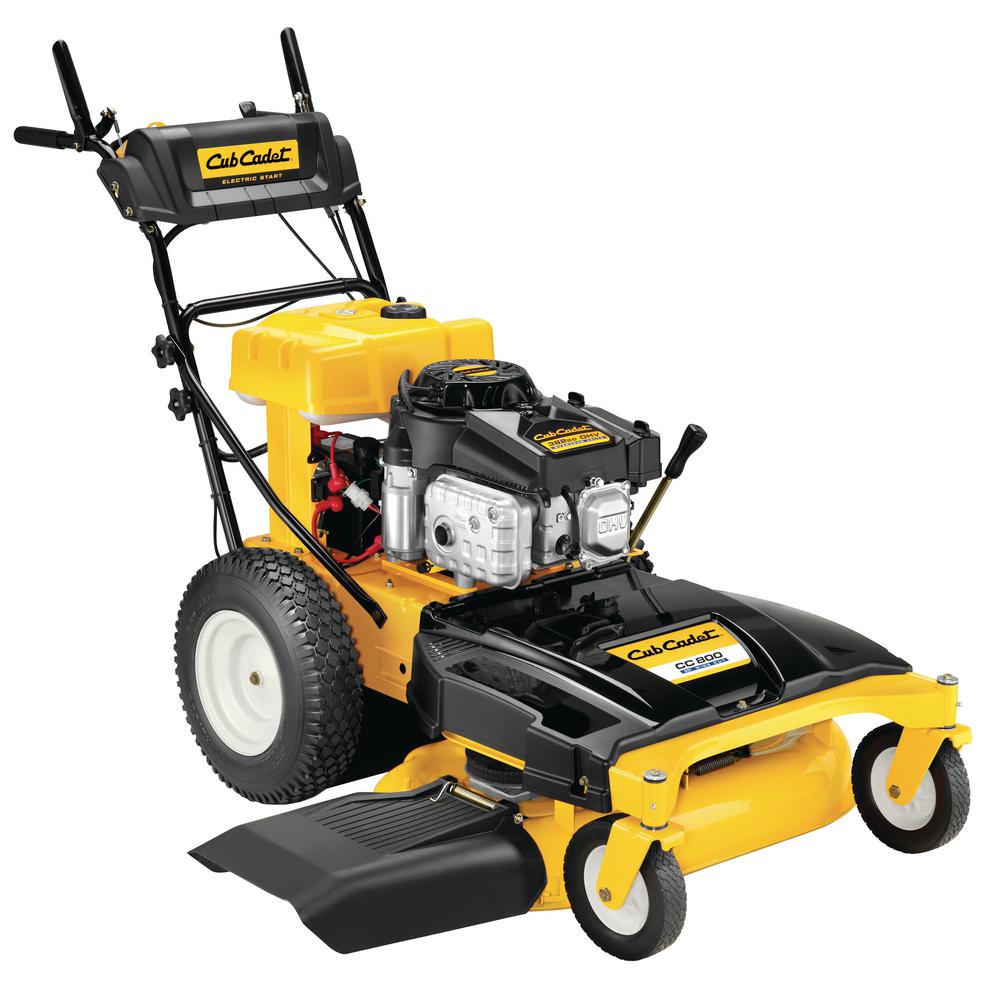 $1,259.10
$1,399.00
out of stock
3. Toro 21200 TimeMaster (Top Rated 30″ Walk Behind Commercial Mower)
Bedecked with a complete range of useful features, this walk behind lawn mower is not only swift for small yards but can handle large commercial ones too.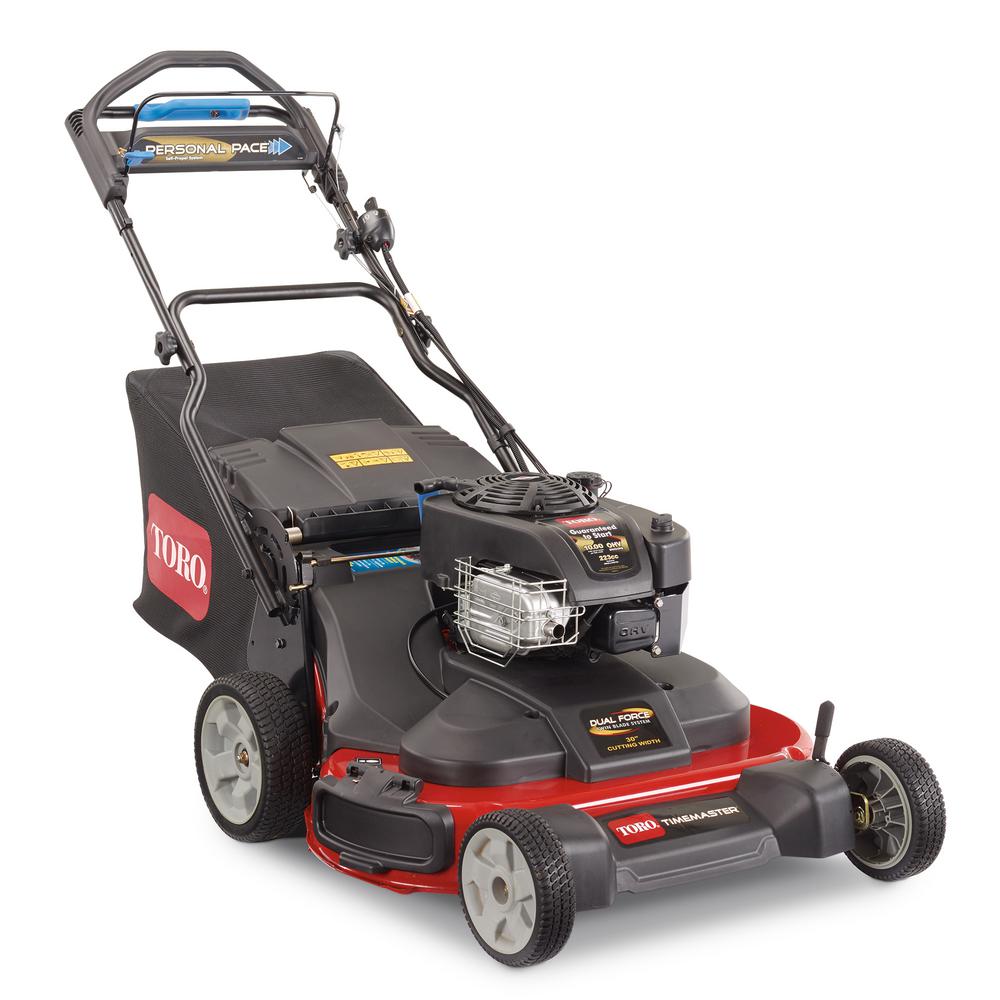 Toro 30 in. TimeMaster 21200
$1,199.00


$

1,099.00
in stock
as of December 5, 2023 11:57 am
On part of its 30-inch wide cutting deck, it can handle a large patch of grass which reduces mowing time by almost 40%. This means the time required by a to mow a ½ acre area would decrease to 30 minutes if we compare it with a 21-inch lawn mower.
2 blades work through a Dual-force cutting scheme which gives a clean and quick grass cut. It can be lifted through 7 height adjustments by a 2-point lever instead of controlling form all 4 wheels whereby you can cut grass of heights 1.25-4.25 inches.
In addition to it, there is a deck wash port to clean the grass clippings away through a water hose after the job is done which keeps it away from catching rust.
If we talk about the engine of the mower, it has a Briggs & Stratton engine which is rated at 223cc and has a driving torque of 10 ft/lb which provides enhanced power to the cutting blades. It comes with a 3-year warranty and a fuel capacity of 0.3 gallons.
You can either choose to bag, side discharge or mulch the grass clippings. To enable the mulching, you need to insert the mulching plug and only after taking it out, will you be able to use the bagging or side discharge option.
A unique feature is the Blade Override System (BOS) which is a method of only stopping the blades from moving and not the whole mower. When your bag is filled and you need to dump it, simply press the blade control bar lock and release the bail handle. After you are done with the dumping of the grass clippings, connect it back and resume from where you started without starting the engine again.
Mowers self-propel system is a combination of Personal Pace and Traction-assist handle which gives the user complete control over the drive of the mower. Pushing it down increases its speed al the way up to 4.25 MPH.
The Traction-assist handle comes handy in tight corners when you can only use one hand to hold the handle. The Quick stow lever allows the freedom to choose two different handle heights which is quite convenient. Especially the 90-degree position save space while storing it.
The mower weighs 150 lbs and comes with a 3-year warranty.
Pros
30-inch cutting deck with 7 height adjustments (1.25-4.25 inches)
223cc Briggs & Stratton engine
3-gallon fuel capacity
3-in-1 cutting capability
Blade override function
Personal pace and Traction-assist handle for convenient usage
Quick stow lever for easy storage
Rear wheel drive with 10 inch rear and 8-inch front wheels
3-year warranty
Cons
The handle cannot be collapsed more than 90 degrees
Expensive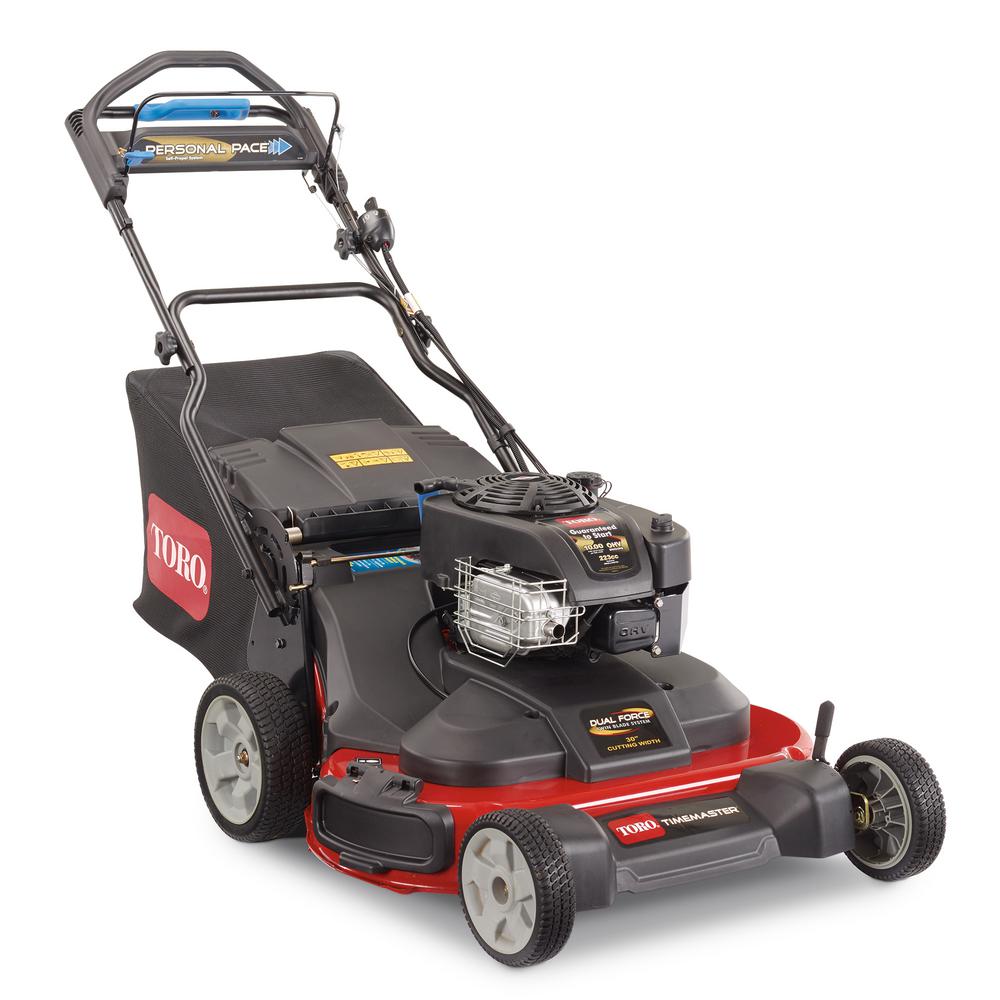 $1,099.00
$1,199.00
in stock
4. Dewalt 21″ Cordless – Most Affordable Walk Behind Lawn Mower
We will start the review blog with a high. This yellow machine is the most affordable walk behind mower you will find in the market and the best part is, it doesn't compromise on quality. While it scores full marks in almost all the fields the run time may be a tad less than what normal battery-powered mowers provide.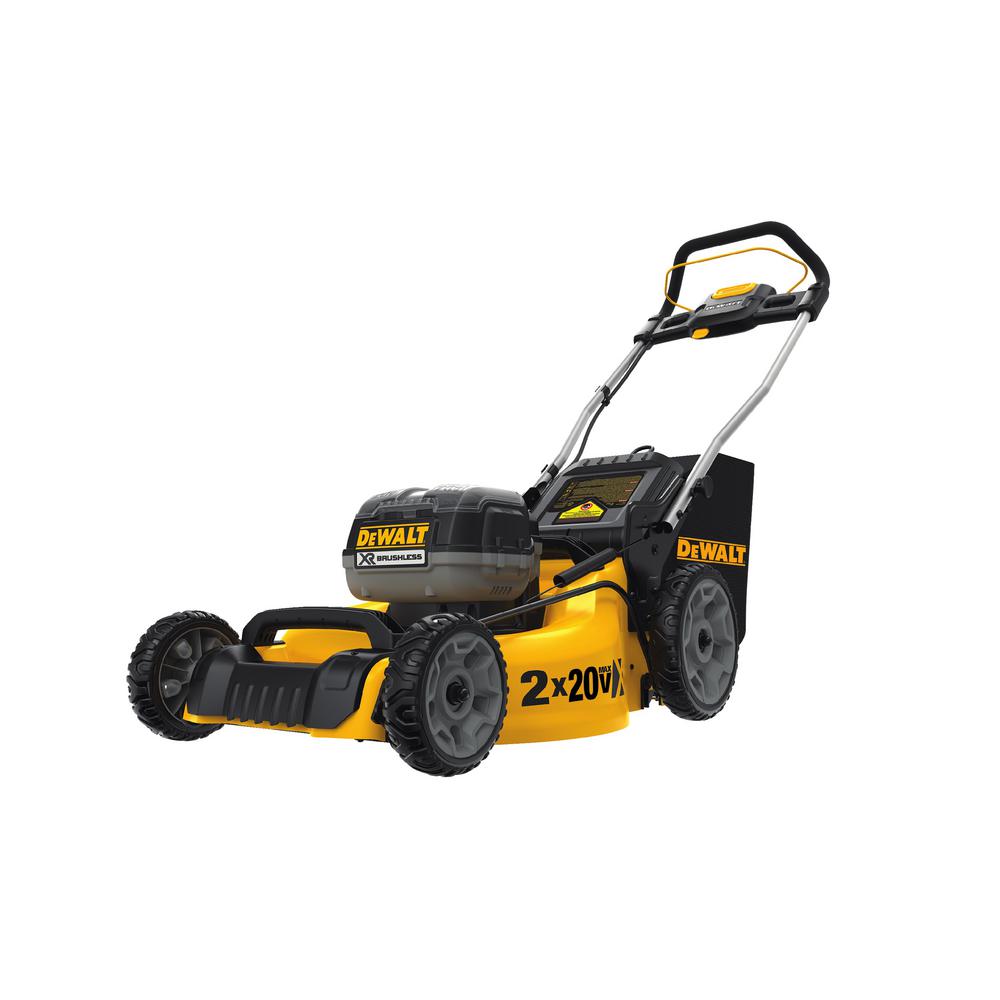 DEWALT 20 in. Cordless Walk Behind Push Lawn Mower
as of December 5, 2023 11:57 am
Talking about the motor first; it is powered by brushless a motor and when we say brushless, we mean efficient and long-running. 2 20 V batteries powers up the motor. It will not run with only one battery so you would need to keep both of them charged at the same potential. There is a LED battery monitor onboard that will depict the current battery status.
20-inch steel deck means it is durable and can take the hardships of weather and wet grass. It comes with 3-in-1 bagging, side discharge, and mulching capability so you can opt for any type of grass collection method. It starts with the push of a yellow button but not before you have inserted the safety key.
If you are thinking about how many cutting heights are there; they are five and you can achieve a grass cut between 1.5-3.5 inches. For further convenience, there is a single lever controlling these heights as compared to one attached to each tire.
The handle is quite ergonomic and can be collapsed for easy storage. It is a brilliant machine but is not without cons. The run time of the mower is only 25-35 minutes so you shouldn't be looking to mow larger lawns with it. It's also not self-propelled because quite understandingly, you can't find one at this price.
Pros
Brushless motor that runs on two batteries
LED battery indicator onboard
3-in-1 grass cutting capability
20-inch steel deck
Collapsible handle
Comes with a returnable 90-day time limit
Cons
Run time is only 25 minutes
Not self-propelled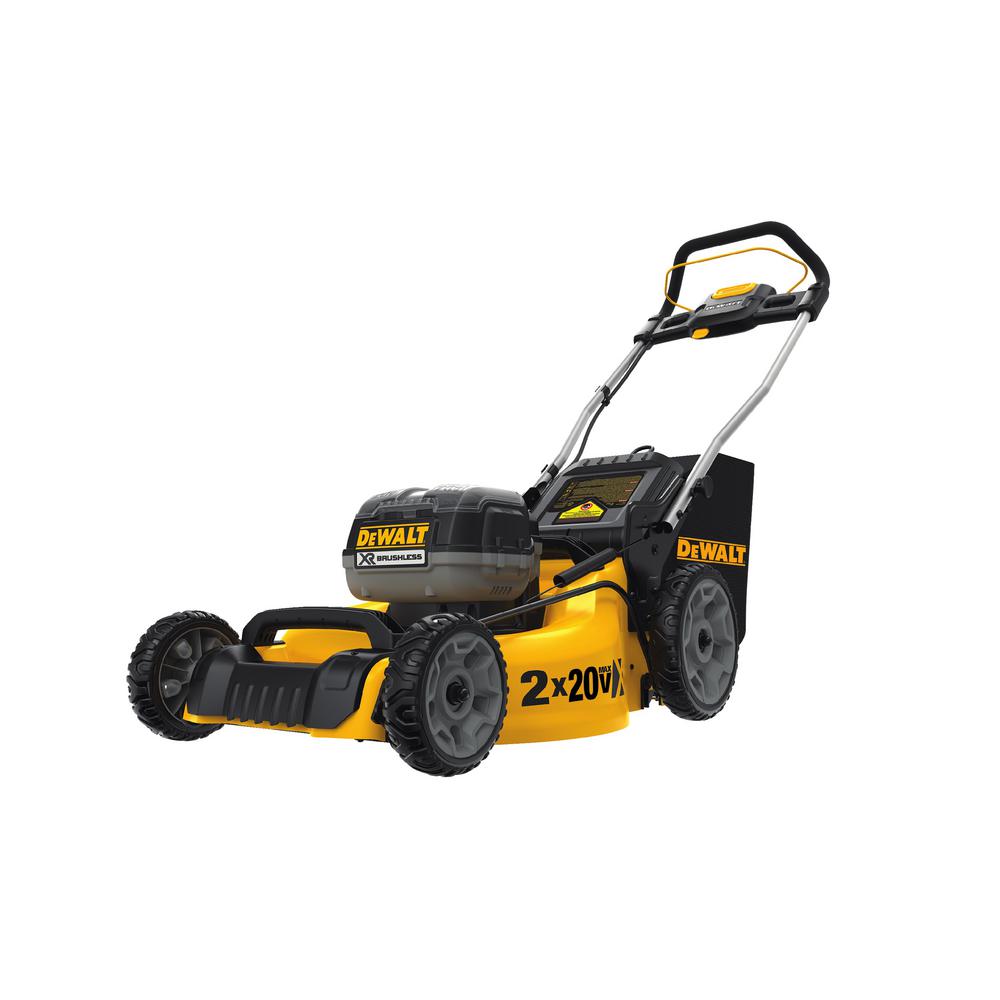 5. Weibang 21″ 4 stroke Mower – Best Small Commerical Walk Behind Mower
Weibang model is a beautiful lawn mower that should not be mistaken to be all looks. It is a high-performance machine that will get the mowing job done precisely, beautifully, and speedily.
The whole lawn mower is dissolved in a classy black color including the handle and the grass collection bag. If we discuss the engine first, it is rated at 196cc and is 4-stroke in nature. 4-stroke engines have more fuel efficiency and better torque than the 2-stroke engines. It's also CARB compliant which means no danger to the environment from its fumes.
We can't help but appreciate the 21 inch deck which is fabricated from 6-gauge steel and supports all three grass cutting methods. Moreover, the cutting height is highly versatile; you can achieve a grass cut off as low as 0.5 inches and through 7 height adjustments, go till 4 inches. Such comprehensiveness in grass cutting heights is very hard to find.
Being self-propelled is another big advantage because the user doesn't have to manually push the mower; rather it would be driven itself, you just need to give it direction. There is a 3-speed lever just beside the handle which can be set to achieve different speeds depending on the time you have for grass cutting and the size of the lawn. Weibang has approved this mower for lawns till 1 acre.
As for the front and rear wheels, they are 8 and 9 inches wide respectively and being a rear-wheel drive means it can access slopes as well. The only negative point in this mower might be the string start otherwise it is a brilliant commercial walk behind mower to have.
Pros
196cc 4-stroke engine
21-inch cutting deck
Can cut grass from 0.5-4 inches
3-speed lever
Self-propelled in nature
Real-wheel drive
Very classy in design and representation
Cons
Pull string start
Only 30-day returnable time limit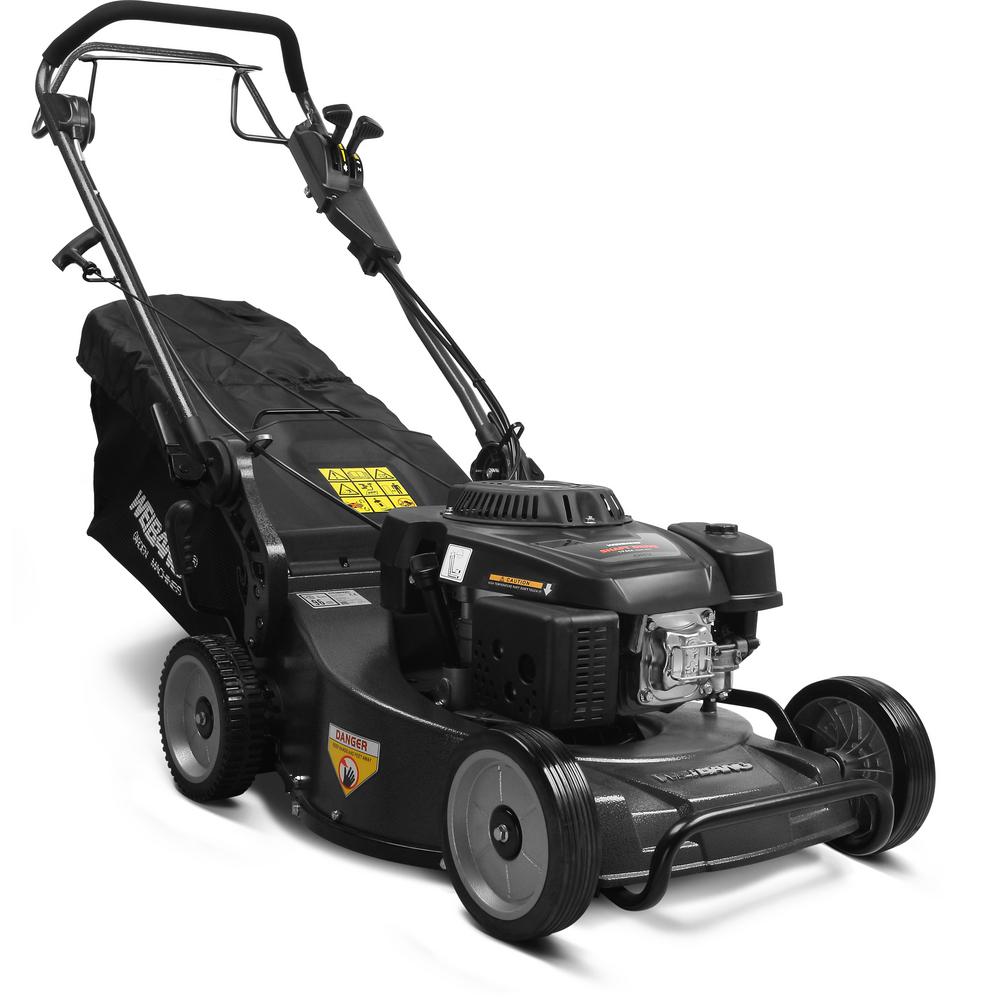 6. BRUSH Beast Subaru 36 inch – Effortless Walk Behind Lawn Mower for Tall Grass & Tree Trunks
It is a unique lawn mower model if we talk about the trend that has been followed in the blog. It can cut tall grass to a height of 4 inches and use its axe-like blades to chop 4-in dia tree trunks as well. How cool is that?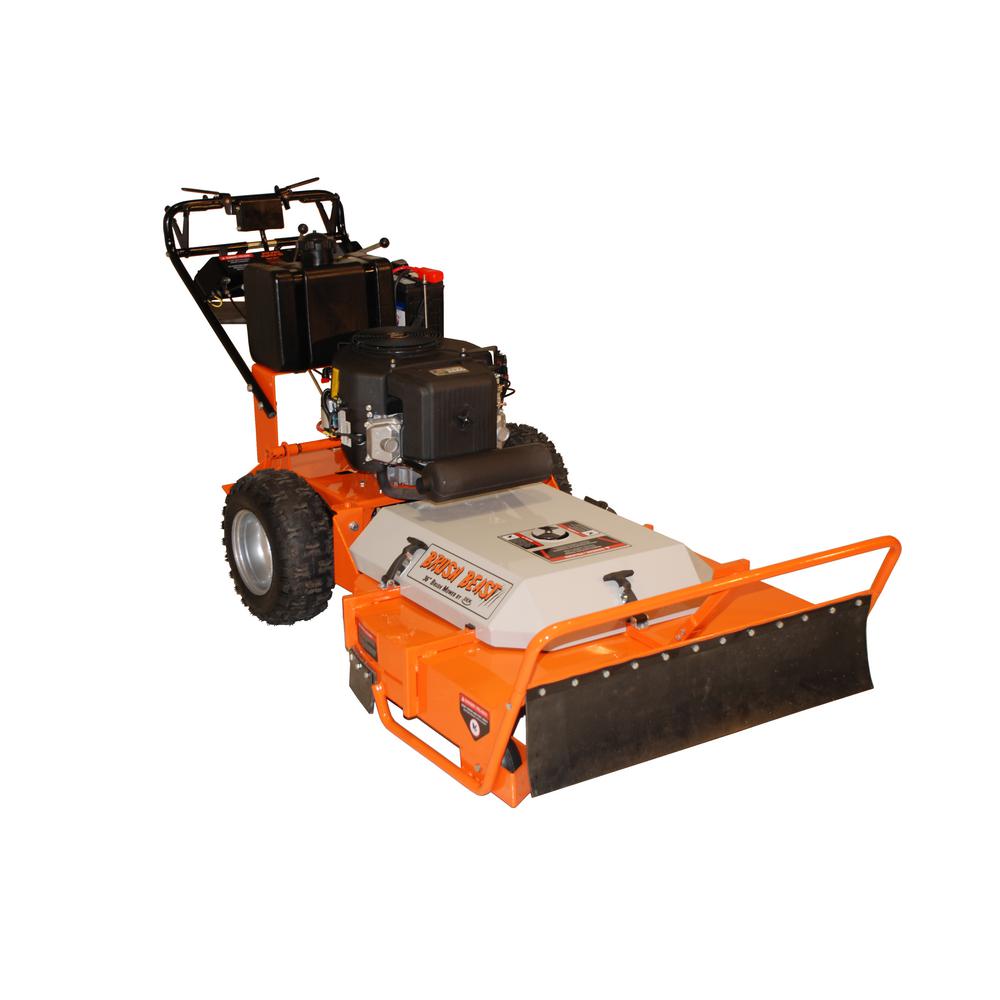 BRUSH BEAST Subaru 36 inch
as of December 5, 2023 11:57 am
Because of the large 22 HP engine, and dual hydro control, you can handle large lawns where the issue is to get rid of lengthy grass, weeds and small tree trunks. It can clear 1-acre land in less than 30 minutes.
The speed, if we talk about is, is outrageous, It can go up to a forward speed of 8 MPH. This is the reason it can handle large lawns in a small period of time. The only cutting option available is the forward discharge and you would have to get rid of the cut chunk sometimes yourself from the front of the driving lawn mower.
In order to start the mower, there is a keyed electric start and customers have faced no problem in starting the engine on the first turn of the key. The deck is made with 7-gauge steel and is nothing but strong. In order to extend the life of the mower, the company has installed a special clutch system and spindle brakes. All in all, if you are a large commercial lawn owner, you should certainly check this model out.
Pros
Manage large lawns with ease
Cuts tall grass and 4-in dia tree trunks
7-gauge steel deck which is 36 inches wide
A forward speed of 8 MPH
Special Clutch and spindle brakes for a longer life
Cons
The only cutting option is forward discharge
Expensive
Cannot cut the grass shorter than 4 inch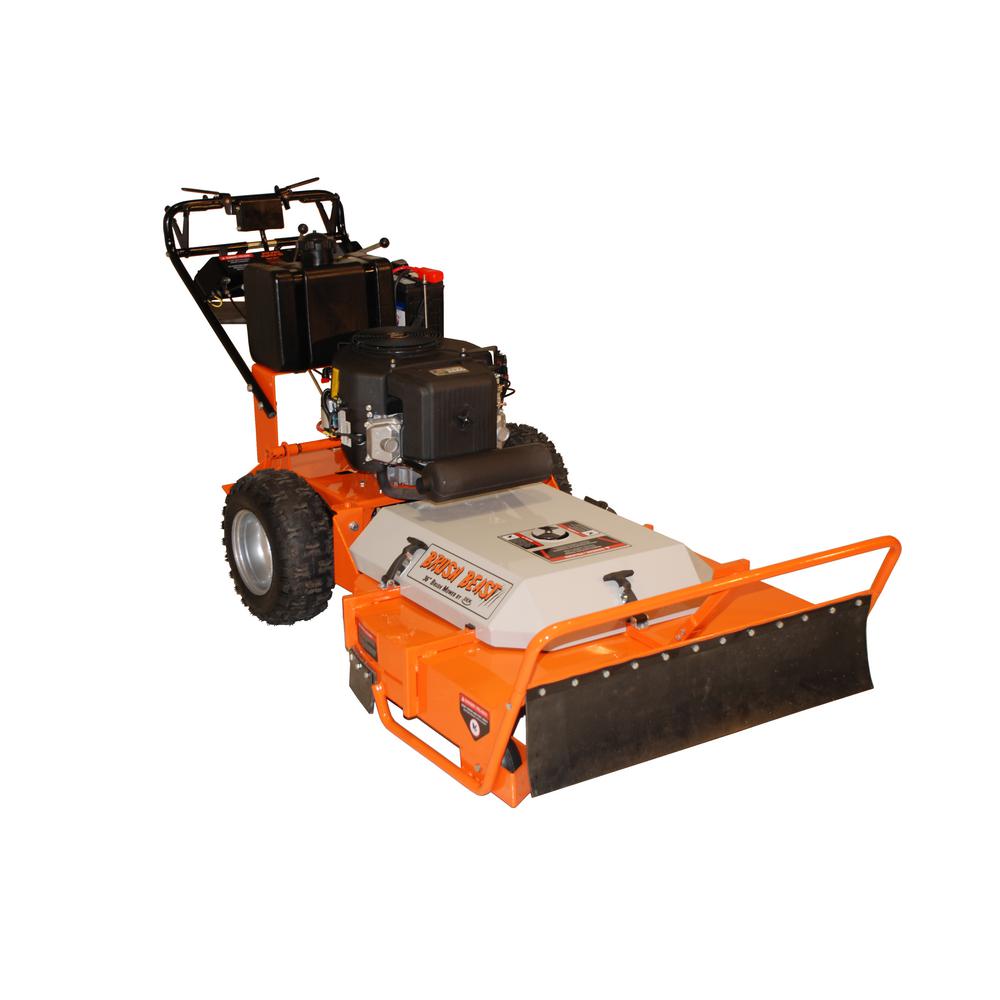 Here is another HomeDepot model if you have a large sum of money.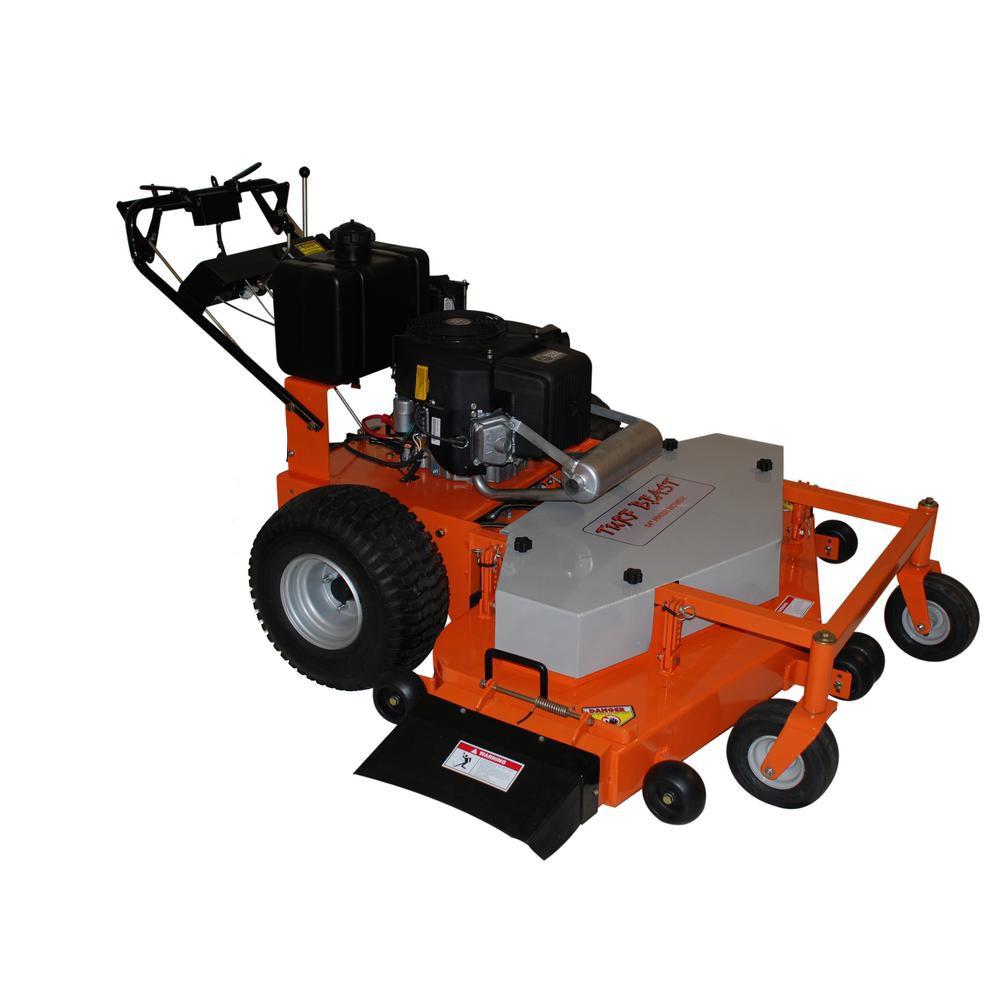 If you're looking for commercial riding mowers then check our article of best commercial zero turn mowers.
7. Snapper CP215520HV (Best Honda Engine Commercial Walk Behind Mower)
It is one of the most economical commercial self-propelled lawn mowers in the market. Equipped extensively with all the necessary requirements, it is an excellent option for lawn owners who cannot afford to pay a huge sum of money on a grass cutting machine.
Starting with the engine of the mower, it is furnished with a powerful 160 HP GXV Honda engine which is OHV in nature. This specific Honda engine is a proven masterstroke in their manufactured line. It provides fuel-efficient performance on part of the precise valve and crankshaft movements and is very smooth due to a ball bearing mechanism in the crankshaft. It starts easily, delivers high power and is CARB compliant which means it doesn't emit harmful gases which can prove ominous for the atmosphere.
It's a rear wheel drive mower so it can be used even on slopes with effectiveness. The smooth-turn differential feature allows the machine to be turned around the lawn smoothly and with minimum effort. Sharp corner and tight spaces, which are often difficult to access for these push mowers, doesn't cause any problem for this particular machine.
If we talk about the cutting deck, it is 21 inches wide and fabricated out of 14-gauge steel. The HI VAC technology allows the deck to use its vacuum-like suction to suck and cut grass cleanly and much more efficiently. With the help of sharp blades and rolled deck edge, it can suck up a large amount of grass and let the blades do the rest. Together, they work towards a superior and commercial-grade grass cut. You may change the height of the deck through 7 levels and cut grass of heights 1.25-4 inches.
A pull string starts of the engine while there are two controls on the sides of the driver handle. The right side of the driver contains the transmission control while the left one is dedicated to the speed lever. As commercial lawns are large, thus the rear wheels are 10 inches large to access all types of terrain and all the wheels are rugged enough to sustain every type of grass and weather, hence contributing towards a long life. You can either bag the grass clippings or mulch them to increase the fertility of the soil.
For safety, you have a bail handle as a standard safety feature but alongside, the blade break can be shut off any time you feel something is not working right. The engine is not covered with any fender so it is recommended that you don't use it in rain or drizzle as water may enter the engine. Some customers also complained about the metal piece that keeps the bagger in contact with the mower.
Pros
GXV160 engine which is OHV in nature
Real wheel drive so can be used on slopes as well
Smooth-turn differential feature allows for easy maneuverability
HI VAC deck sucks up the grass and cuts it more efficiently
21-inch steel cutting deck with 7 height adjustments
10-inch rear wheels for more traction
Improved safety features
Cons
The engine is not covered
Some customers complained about the metal piece which keeps the bagger attached to the mower
8. Snapper CRP218520 (Best Self Propelled Commercial Lawn Mower)
Another Snapper model and a much lower-priced one but not as powerful and accessorized as the previous one. It is perfect for those who have simple commercial lawn mowing needs.
Snapper CRP218520 / 7800968 NINJA 190cc Rear Wheel Drive Variable Speed Commerial Series Lawn Mower with 21-Inch Deck, Ninja Mulching Blade and 7 Position Height-of-Cut
out of stock
as of December 5, 2023 11:57 am
It is quite similar in shape to the previous Snapper model except that it lacks a bagger and the HI VAC sucking chute thus this can be called a simpler version of the Snapper's previous model. Powered by a Briggs & Stratton 850 Series engine which is rated at 190cc.
With a Ready Start system to start the engine on the first pull of the string and CARB compliant assurance, it provides a high torque of above 8 ft/lb which can make it drive through thick grass like St. Augustine with ease.
To cut long grass over uneven terrain, you would require a high-quality cutting deck which is versatile and Snapper provides just that in this model. The 21-inch cutting deck is incorporated with 6 cutting surfaces Ninja blades that mulch and slice the grass quite speedily. The deck is fashioned out of 14-gauge steel and integrated with high-grade steel axles and bracing.
It cut's grass through 7 height adjustments from heights 1.25 to 4 inches. It can be used over hills and plain yards alike since it is a rear wheel drive mower.
It is primarily a mulching mower that doesn't support bagging facility, and side chute needs to be purchased separately if you want to enable side discharge.
Additionally, there is a cup holder on the driver's handle where the drink can be placed so you are never out of hydration during the mowing job because mowing commercial lawns can be a tiring task. The handle is padded with a foam covering so there is no chance of any sort of hand fatigue even upon usage for extended periods of time.
As for the demerits, it doesn't have an oil drain plug so the user has to remove the side discharge chute to remove the dirty oil. Also, the self-propelling button that activates the said capability is not in an ideal position for the hand. It is located above the handle while it should optimally be under or parallel to the handle.
Pros
Powerful Briggs & Stratton engine with high torque
Rear wheel drive so it can access hilly terrain as well
21-inch cutting deck with 7 height adjustments
The Ninja blades have 6 cutting surfaces
Cup holder along with the handle
Cons
Doesn't have an oil drain plug
The self-propelled activator is no in an ideal position
9. Greenworks MO80L510 (Best Cordless Battery Powered Commercial Lawn Mower)
This is the only battery-powered lawn mower in our list. While general residential battery-powered mowers operate on 40V batteries, this is equipped with an 80V battery which is rated at 5Ah.
Greenworks PRO 21-Inch 80V MO80L510
5 new from $434.00
Free shipping
as of December 5, 2023 11:57 am
The good thing about the battery apart from the high power is its ability to get charged from batteries of other models like GBA80400 and GBA80200.
Mower provides a total run time of 70 minutes which is probably the longest of all 80V lawnmowers, therefore, it can be used to mow ¾ acres of land on a single charge. Additionally, it takes only 30-40 minutes to get charged.
Motor, which is responsible for the movement procedures is brushless in nature. Brushless motors have a smaller number of moving parts and have a low probability of encountering running issues along with being much durable.
In fact, it provides power equivalent to a 160cc engine. Further on the excitement, it is integrated with smart cut technology which enables the batteries to provide the optimal amount of power to the blades according to the condition of the grass.
It grinds up upon thick grass and slows down on short, thin grass. This not only saves time but increases the battery life too.
As for the cutting deck, it is 21 inches wide and fabricated with steel. The height adjustment handle is located on the rear right side which lifts up all the wheels at the same time.
Total of 7 height adjustments allows you to cut grass of heights 1.25-3.625 inches. Greenworks MO80L510 supports all three types of grass discharge options, that are, mulching, bagging, and side discharge.
The mower can be started with a single push button, it operates on a low-noise decibel level and have rugged wheels to improve traction.
After the mowing operation, you can collapse the handle over the body and store it in either vertical or horizontal position although the vertical mode saves more space.
Greenworks MO80L510 has been raved largely by the customer and will be a commendable addition to your gardening equipment.
How to start this model:
Insert the charged battery in the battery compartment of the mower.
Press the green safety button located on the right side of the handle.
Pull back the bail handle while keeping the button pressed.
As the mower starts, leave the button and start mowing.
To stop the mower, simply release the bail handle.
Pros
80V 5Ah battery with a run time of 70 minutes
Charging time is only 30-40 minutes
Cutting Deck 21″
Brushless motor
Smart cut technology
7 height adjustments to cut grass between 1.25-3.625 inches
Low-noise mower
Cons
The height adjustment bar extends out of the mower and can hit small lumps present on the ground.
Battery-powered so have to be charged before use
$434.00
$599.00
in stock
5 new from $434.00
as of December 5, 2023 11:57 am
Recommended For You: Best lawn mower for wet grass cutting
10. Swisher WHERC10224C (Best Lawn Mower For Large Grass)
A beast in its own style, this 24-inch self-propelled lawn mower will satisfy your commercial mowing needs in a calming manner. If you have long grass in the lawns, this is the mower for you. Uniquely designed and with fewer parts but which are highly durable, this mower is there to stay.
It is equipped with a Honda GX 389cc 4-stroke engine with a large fuel capacity of 0.7 gallons. It provides enough power to the mower to handle lawns up to 1 acre and can be operated in reverse as well. Especially when operating in tight corners, reverse function is a handy feature to have.
Started through a 12V recoil backup, it allows a four-speed operation and while it has a rear wheel drive at the same time, it becomes a highly versatile model to own. Not only can it yield good results on flat lawns but handle hilly yards with comfort as well.
To perform the cutting operation, it is furnished with a 24-inch cutting deck which is welded with 11-gauge steel which is very durable and a little bit heavy which causes the final weight to amount to 290 lbs.
Big limitation, however, is the nonadjustable 4-inch cutting height due to the front castor wheels. You cannot cut grass lower than this which is a big downside. But the G-6 blades are really sharp and protected by side deflectors to prevents debris from firing at the user.
Additionally, it has large 16-inch pneumatic wheels which will not go flat any time sooner. They, along with the maneuverable front castors, provides enhanced handling and smooth steering even in places where standard walk behind mowers are hard to go in.
On part of its adjustable handle height, you can control them from different heights depending on the terrain of the yard. It comes with a 1-year warranty.
Pros
24-inch cutting deck
GX 389cc Honda engine
Rear wheel drive
Very durable
Side deflectors to guard against flying debris
16-inch pneumatic wheels with front castors for good maneuverability
Cons
No adjustable heights so you can only cut grass of height 4 inches.
Warranty is only 1 year
Commercial vs. Residential Walk Behind Mowers
Although commercial and residential lawn mowers can be used interchangeably depending on the scenario but one should understand what is the difference between the two.
Price
It is the most obvious difference which can be understood by even a layman. Commercial mowers carry a heavier price tag because they are furnished with extensive features. Residential push mowers are available in the range of $200-600 but commercial push and self-propelled mowers would cost you $700-$2000. Besides, it varies with the company and the size of the cutting deck.
Reliability
Commercial mowers have to be used 5-6 times a week for many continuous hours and on much larger lawns, therefore, they are designed to withstand wear tear and the phases of time and weather.
These commercial intent mowers are built with heavy-grade metals and weather-proofing features such as galvanized cutting decks and fender-covered engines.
Many of these lawn mowers are equipped with features to access all sorts of grass and terrains. Usually, commercial walk behind mower is either rear wheel drive and all-wheel drive.
Normal warranties on these mowers are 3-5 years.
Features
As a rule of thumb, commercial lawn mowers come with larger cutting decks. Then, there are other features such as complex mulching systems to allow portion-wise grass clippings that need to be directed in the rear bag and the ground, speed control, and handling options and safety features.
The horsepower of these lawn mowers is higher than the residential ones and the fitted engines are much more fuel-efficient, more reliable, and cause less running problems.
Types of Commercial Walk Behind Lawn Mowers
There are two types of walk behind lawn mowers.
Push Mowers
These mowers need to be pushed physically by the users themselves. Such mowers have engines that will only move the cutting blades that are either powered by a battery or a gasoline engine. The wheels don't have any transmission mechanism for moving the wheels forward.
These mowers require human effort to be moved so are not feasible to be used on slopes and large commercial lawns, therefore we will be only discussing the self-propelled lawn mowers in this article. Push mowers are only suitable for use in small gardens.
Self Propelled
These mowers, as depicted from the name are self-propelled by either an engine or a battery. This saves the human effort and thus, can be used to mow large gardens. This is the only evident difference between a push and self-propelled lawn mower.
The user only needs to control the direction of the mower while the transmission will help to push the mower forward. Among self-propelled models, there are three categories of them:
1. Rear wheel drive
This means the back wheels are provided power by the engine. They provide improved traction and can effectively be used on hills and inclines. This makes sure that the rear wheels are grounded which provides enhanced handling and maneuverability. If you have a hilly yard, you should choose this type for sure.
2. Front wheel drive
These types of mowers are operated by tipping back the rear wheels and then lifting them off the ground. Usually, front wheel drive mowers are light in weight than the other two types. They are safe options for flat gardens only.
3. All wheel drive
Engine provides power to all the wheels of an all-wheel-drive mower. They provide traction of the highest standard among all three types and give low-effort maneuverability. Such mowers can be used on any type of terrain: flat, hilly, wet or uneven. Also, as a matter of fact, they are the most expensive self-propelled mowers.
Advantages of Commercial Self Propelled Walk Behind Mower
1. Effort saver:
As it can be propelled by itself, there is no need to push it physically which saves an ample amount of human effort and that stamina which would have been invested in the pushing can now be used to mow large portions of the yard because there is one less factor tiring you up.
2. Variable speeds:
Many self-propelled lawn mowers are equipped with variable speed feature whereby you can adjust the speed of the mower according to your desire and the time available for the mowing job. The speed is controlled through an ergonomic speed lever located on or near the driver handle.
3. Saves time:
They are faster than push mowers and require no human effort so you can mow your lawns in less time.
4. Other features:
They may be expensive than the push mowers but the number of additional features packed in them makes them offer good value for the money.
This includes better engines that can provide supreme performance for a longer time, sharper and efficient cutting blades with increased cutting surfaces and better geometries.
Auto-choke starting feature to turn on the mower on the very first try and 3-in-1 discharge system which enables you to choose which type of grass clipping method you need.
Taking care of your commercial walk behind lawn mower
You can extend the life of your mower by following maintenance tips. After all, it deserves to be taken care of because it looks after your lawn regularly.
1. Be careful about the fluids
Oil in the mower is just as significant as oil in the car. It needs to be changed regularly so that the engine receives fresh fluid always hence its efficiency can be enhanced.
Check the oil level before every mowing job and replace it if it is below the indicated level. When the color of the oil darkens up, it's time to change it.
2. Spark plug
If your lawnmower is facing difficulty in starting up, the first point of check should be the spark plug because it is the igniting base for the engine. Remove the spark plug and blow into it or clean with a cloth.
You may also clean it with a toothbrush. Insert it back and power up the engine. If it doesn't start, the plug needs to be changed. Purchase it from a nearby lawnmower shop.
3. Air filter needs cleaning
The engine works with air and fuel as a combination so unless it is receiving clean air, it won't function properly. Check the air filter and clean it with a blower after every 2 weeks because commercial walk behind mowers is used extensively.
Replace the air filter after every season or as directed by the manufacturer. A dirty air filter can harm the engine so be cautious about it.
4. Clean the cutting deck
If the grass clippings remain attached with the underside of the cutting deck, it won't be long enough since it starts to catch rust or crumble. If your mower has a wash port, it's great but if it hasn't, you need to turn over the mower and clean it with a water hose.
Don't turn over 180 degrees but 90 degrees. First, sweep it with a cloth or a broom and then wash it with a water hose. Dry up the surface after washing.
5. Mechanical maintenance
Keep an eye on wobbling axles, loose nuts or washed out washers. Check the height adjustment lever regularly and clean it if necessary.
Lubricate the moving parts as directed by the manufacturer otherwise, grease and dirt will build up in the parts and decrease the life of the machine.
Final Words For Walk Behind Commercial Mower
Depending on the size of your commercial yards, you may choose between the 10 models we have presented in front of you.
All these walk behind mowers have great features and a long warranty which shows they are greatly reliable. Also, a considerable number of customers have liked and recommended these models.
We hope you make the right decision and whichever the model you choose, prove useful and convenient for you in the longer run.
Latest posts by michael-li
(see all)